Results of National Youth Risk Behavior Survey
In August 2016, the Centers for Disease Control and Prevention (CDC) released their results of an anonymous survey conducted in 2015, called the National Youth Risk Behavior Survey (YRBS)1. It is based on responses from about 15,600 students nationwide, including rural areas. Of all the participants, 2% said they were gay, 6% said they were bisexual, and 3% said they weren't sure of their sexual identity. An extrapolation of these results suggests that of the 16 million students who attended public and private high schools last year, roughly 321,000 were gay or lesbian and 964,000 were bisexual. This study found that lesbian, gay and bisexual (LGB) high school students are far more likely than their classmates to be raped or assaulted in a dating situation, feel unsafe, and are at a higher risk for suicide. Specifically, it showed:
About 1 in 5 (LGB) students said they had been raped at some point in their lives, compared to 1 in 20 of their heterosexual peers.

Nearly 1 in 5 (LGB) students who had gone out with someone in the past year said their date committed some form of physical violence towards them like hitting them or slamming them against a wall. That was more than two times the amount of violence that was reported by heterosexual students.

More than 1 in 3 (LGB) students said they had been bullied in school, compared to 1 in 5 straight kids.

More than 1 in 10 gay, (LGB) students said they had skipped school the past month due to safety concerns. Less than 1 in 20 heterosexual kids reported the same.

More than 1 in 4 of (LGB) students said they had attempted suicide in the previous 12 months, whereas 1 in 16 straight kids reported they had attempted suicide
This study also found that the LGB students are at a higher risk for suicide 
60+% felt so sad and hopeless they stopped participation in routine activities

43% considered suicide

38% made a suicide plan

29% attempted suicide within 12 months
The YRBS did not include the entire spectrum of sexualities and gender identities. For example, it didn't separate results for questioning students. Also, it did not consider transgender students. Nearly half of young transgender people have seriously contemplated suicide, and one quarter has made a suicide attempt.2 Questioning youth are 3x more likely to attempt suicide as their straight peers.3 This new study shows that LGB youth are 4x more likely than their straight peers to have a suicide attempt severe enough to require medical attention.
This study was conducted on high school students, yet injustice shown towards the LGBTQ community starts as early as grade school and can be experienced at all ages. Jonathan Mermin, M.D., director of CDC's National Center for HIV/AIDS, Viral Hepatitis, STD and TB Prevention, said it best when he summed up the YRBS findings by saying:
"These tragic disparities call for accelerated action by public health and education agencies, communities, and families to protect the lives of lesbian, gay and bisexual youth. Connectedness-or social bonds-to peers, teachers, schools or community organizations is key to protecting the health of these adolescents. Students will succeed if they know they matter, and feel safe and supported socially, emotionally, and physically. Solutions may not be simple, but we can talk action to build support for lesbian, gay and bisexual youth at multiple levels." 4
Click Here for a Summary of all the Data from the YRBS study.
More Facts and Statistics
LGB youth who come from highly rejected families are 8.4 times as likely to have attempted suicide as LGB peers who reported no or low levels of family rejection. 5
Each episode of LGBT victimization, such as physical or verbal harassment or abuse, increases the likelihood of self-harming behavior by 2.5 times on average.6
Results of the SAMHSA's National Survey on Drug Use and Health "

LGB: Substance Use and Abuse and Mental Illness"
In 2015, SAMHSA's (Substance Abuse and Mental Health Service Administration) National Survey on Drug Use and Health focused on patterns of substance use and mental illness among adults (age 18 and older) of different sexual orientations. Overall, the report finds that in the prior year, 39.1% of adults who identify as lesbian, gay, or bisexual (LGB) used illicit drugs and alcohol, versus 17.1 of the general population. This higher use among the LGB population (transgender wasn't in the study) was seen for both males and females, as well as across all age groups.  Going beyond just use for the last year, 15.1% of the LGB population had an actual substance use disorder, versus 7.8% of the general population. The good news is that the LGB population was more likely than the general population to receive needed treatment for substance abuse disorders.
The LGB population, according to this study, was more than twice as likely as the general population to experience any kind of mental illness in the past year (37.4% v. 17.1%) and had a higher prevalence of suffering from a serious mental illness than the general population (13.1% v. 3.6%). Serious mental illness is defined as a mental, behavioral, or emotional disorder which substantially interferes with, or limits, one or more major life activities.  Once again, the LGB population was more likely than the general population to receive mental health treatment in the past year of the study. (48.5% v. 42.6%).7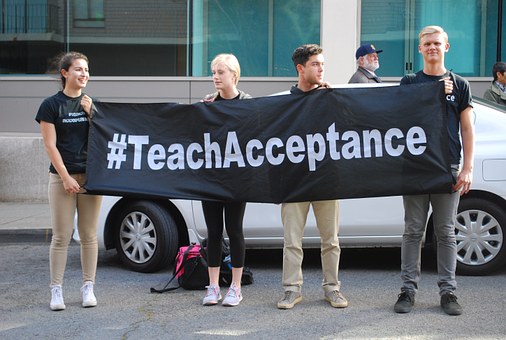 If you are part of the LGBTQ community, you are not alone.  Even though you may sometimes face fear, hatred, and prejudice in school, with friends, in the community, and even possibly in your own homes, you must never lose hope. Do not let the actions of the unaccepting take the joy out of your life. Some excellent organizations are available to you that can provide support and links to services. Our Resources page will direct you to some of these organizations, as well as to a 24/7 Crisis Lifeline, Chatlines, Text Line and Youth Talk-Line.
Kann L, Olsen EO, McManus T, et al. Sexual Identity, Sex of Sexual Contacts, and Health-Related Behaviors Among Students in Grades 9–12 — the United States and Selected Sites, 2015. MMWR Surveill Summ 2016;65(No. SS-9):1–202. DOI: http://dx.doi.org/10.15585/mmwr.ss6509a1 ↩
Grossman, A.H. & D'Augelli, A.R. (2007). Transgender Youth and Life-Threatening Behaviors. Suicide and Life-Threatening Behaviors .37(5), 527-37. ↩
CDC.(2011). Sexual Identity, Sex of Sexual Contacts, and Health-Risk Behaviors Among Students in Grades 9-12: Youth Risk Behavior Surveillance. Atlanta, GA: U.S. Department of Health and Human Services. ↩
CDC.(2016). Press Release: First National Study of Lesbian, Gay and Bisexual Students' Health Finds Higher Levels of Physical/ Sexual Violence and Bullying Than Peers ↩
Family Acceptance Project.(2009). Family rejection as a predictor of negative health outcomes in white and Latino lesbian, gay, and bisexual young adults. Pediatrics. 123(1), 346-52, as cited by the Trevor Project. ↩
IMPACT.(2010). Mental health disorders, psychological distress, and suicidality in a diverse sample of lesbian, gay, bisexual, and transgender youths. American Journal of Public Health. 100(12), 2426-32, as cited by the Trevor Project. ↩
The report, Sexual Orientation and Estimates of Adult Substance Use and Mental Health: Results from the 2015 National Survey on Drug Use and Health available at http://www.samhsa.gov/data/sites/default/files/NSDUH-SexualOrientation-2015/NSDUH-SexualOrientation/NSDUH-SexualOrientation-2015/NSDUH-SexualOrientation-2015.htm ↩